Features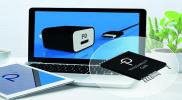 GaN-based switcher ICs empower next-generation power products - issue 1/2020
There have been a number of disruptive advances in the power electronics community over the last 20 years....
More details...
Linear voltage regulators operate at automotive temperatures
Designed for high reliability, high temperature applications, the CMT-Antares is Cissoid's latest regulator.
More details...
Power Electronics Europe News
Artesyn signs franchise agreement with Components Bureau
The agreement, covering the UK and Ireland, is for Artesyn's broad power offering which includes products from 3W to hundreds of kW. The range of high power modular and programmable power supplies are designed for high end applications where control and monitoring of the power supply is critical.
The addition, says Component Bureau will strengthen the target markets of automotive power, automation, robotics and environmental control.
This agreement is an extension of the partnership between Artesyn and Component Bureau's sister company, Emtron, in Germany. Both companies offer technical and design-in support and UK and German warehousing facilities.
Andrew Ferrier, general manager of Components Bureau believes: "This is an exciting addition to our portfolio and allows us to replicate in the UK the success that our sister company has already achieved in Europe which gives us a very strong foundation to build on".
View PDF