Features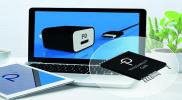 GaN-based switcher ICs empower next-generation power products - issue 1/2020
There have been a number of disruptive advances in the power electronics community over the last 20 years....
More details...
Linear voltage regulators operate at automotive temperatures
Designed for high reliability, high temperature applications, the CMT-Antares is Cissoid's latest regulator.
More details...
Power Electronics Europe News
PCIM Europe announces programme of events for 2020
The international exhibition and conference for power electronics runs from 5 to 7 May 2020.
Last year, there were 12,182 visitors and 515 exhibitors, and the conference which took place alongside the exhibition was attended by 804 international delegates, over half of them coming from outside Germany (15% from Japan, 13% France and 10% USA).
Over half of the exhibiting companies were based outside of Germany, reports Messago, the organiser, 14% were US, and companies from China, Italy, Great Britain, France and Japan made up 76% of exhibiting companies.
Power semiconductors, components and modules figure strongly in the conference programme and exhibition. Exhibitors that have been announced for 2020, include Infineon, Semikron, Rohm and Kemet, with 40 new exhibitors, including distributor Arrow Germany, IC manufacturer, TowerJazz and switching power supplies and DC fans manufacturer, Delta Electronics as well as Kohsel, which makes tailored transformers.
The conference, which runs alongside the exhibition, will include topics for the industry, including e-mobility, which will be discussed in an E-mobility Forum and dedicated area. The programme includes lectures as well as poster sessions over three days.
View PDF