Features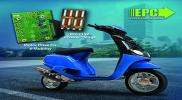 Integrated GaN Power Stage for eMobility - issue 2/2020
Brushless DC (BLDC) motors are a popular choice and are finding increasing application in robotics, drones, electric bicycles, and electric scooters. All these applications are particularly sensitive...
More details...
Linear voltage regulators operate at automotive temperatures
Designed for high reliability, high temperature applications, the CMT-Antares is Cissoid's latest regulator.
More details...
Power Electronics Europe News
UK Lithium Ion Gigafactory Becomes Reality
The battery industry is forecast to be worth £5 billion domestically by 2025, and the demand for lithium ion cells across a number of industries, including vehicle electrification, is already increasing dramatically, and risks becoming constrained as the UK Government strives to meet its Road to Zero targets by 2050. Not only is Britishvolt filling this gap in the market, but is also moving to leverage the UK's world-leading lithium ion battery research development and academic community. The initial wave of £1.2 billion of investment into the site will eventually lead to around 3,500 jobs.
Britishvolt also announced plans to build a solar park alongside the factory, to support sustainable production of batteries and meet low carbon objectives, ensuring the firm plays a true and active part in the global green agenda. "We aim to deliver a scalable, onshore production and diverse portfolio of world-class lithium ion batteries, to support the unprecedented transition to electrification – primarily servicing the automotive and energy storage markets. The sheer scale of this project means our gigafactory will have one of the top three largest single footprints in Europe. The plant will be one km long and 30 metres tall, needing 80 plus hectares of land, and the energy intensive nature of producing lithium ion cells means nearby renewable sources are of huge importance. Our state of the art and high efficiency gigaplant will employ at least 3,500 local Welsh people. These will be across a wide range of disciplines and will create a local ecosystem of 10,000 to 15,000 further jobs for the wider supply chain – including material suppliers, contractors and local services. By the third quarter of 2023, we plan for the first stage of our plant to be fully functional, and envision that between 40 and 60 percent of the initial £1.2 billion of investment will be injected directly into the chosen community, representing a real catalyst for growth in the local economy and the UK," commented Lars Carlstrom, CEO at Britishvolt.
On June 15 Britishvolt announced the appointment of seasoned battery industry professional Isobel Sheldon as Chief Strategy Officer (CSO) and Head of the Advisory Board, to support building the gigafactory. Having amassed nearly 20 years of Lithium ion battery industry experience, she joins the company from the Government-backed UK Battery Industrialisation Centre (UKBIC) – which aims to transition the country into a world leader in cell design, development and manufacture for vehicle electrification – where she served as Director of Business Development. Prior to this, she held senior leadership positions within global companies, recently serving as Engineering and Technology Director at Johnson Matthey Battery Systems, where she led the technical strategy and execution within the battery systems business. "As one of the first pioneers to integrate lithium ion batteries in road vehicles, including the first commercially available Plug in Hybrid in the world based on the Toyota Prius hybrid in 2003, I have developed a wealth of knowledge on a wide range of disciplines – from cell technology, chemistries and system integration to how the global industry and supply chain works, as well as the processes involved in manufacturing the cells. This gigafactory is not only one of the most exciting green projects currently taking place in the world, for both the automotive and energy sectors, but will be of huge national importance as the UK Government looks to fulfil its green agenda and meet its Road to Zero targets", Isobel Sheldon stated.