Features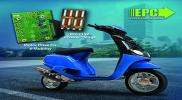 Integrated GaN Power Stage for eMobility - issue 2/2020
Brushless DC (BLDC) motors are a popular choice and are finding increasing application in robotics, drones, electric bicycles, and electric scooters. All these applications are particularly sensitive...
More details...
Linear voltage regulators operate at automotive temperatures
Designed for high reliability, high temperature applications, the CMT-Antares is Cissoid's latest regulator.
More details...
Power Electronics Europe News
EPC to present GaN-based papers at PCIM Europe 2020
The
company's latest ePower Stage IC family will be the focus for this year's virtual event, together with presentations showing how GaN technology's superior performance is transforming power delivery for computing, communications, robotics and transportation.
Representatives from the company will deliver three technical presentations and participate in two panel discussions on GaN technology and applications.
The company will also participate in the event's virtual exhibit, showing its latest eGaN FETs and ICs in customers' end products. Experts will be available to discuss eGaN devices in several applications, for example, high performance 48V DC/DC power conversion for advanced computing and automotive applications, high power nanosecond pulsed laser drivers for lidar in autonomous vehicles and precision motor drives for robotics and drones.

Technical Presentations and panels by EPC experts will run over the two days. There will be poster/dialogue sessions all day on Tuesday 7 and Wednesday 8 July: Jianjing Wang, Yuanzhe Zhang, Michael de Rooij PhD will take part in 'GaN FET-Based Ultra-Thin DC-DC Step-Down Converter' (PP140) and Yuanzhe Zhang, Michael de Rooij will also take part in '300W 48V-12V Digitally Controlled 1/16 Brick DC/DC Converter Using GaN FETs' (PP144).
On Wednesday, 8 July at 11.05 central European time (CET), Michael de Rooij, Brandon Perez, Yuanzhe Zhang and Henry Qiu will present 'A Low Voltage BLDC Motor Drive Inverter Using a Monolithic GaN ePower Stage'.

CEO Alex Lidow will take part in two panel sessions – 'Power GaN: Past – Present – Future', on Tuesday 7 July at 12pm CET and 'GaN Devices – the Game Changer' on Wednesday 8 July, 12.45pm CET.
View PDF