Features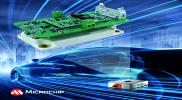 Evaluating Three Key Pieces of a SiC Total System Solution - October 2020
Following a rapid expansion of SiC product options, the industry's next challenge is simplifying the design-in process for end users. Power system developers need holistic solutions that address not...
More details...
Linear voltage regulators operate at automotive temperatures
Designed for high reliability, high temperature applications, the CMT-Antares is Cissoid's latest regulator.
More details...
Power Electronics Europe News
Advanced interface options enhance monitoring
T
he interface options use additional pins and are claimed to provide enhanced adjustment and monitoring features consistent with industry standards and customer needs. The V05 and V10 options are available with 5V DC and 10V DC reference, control and monitoring respectively.
The interface options allow both the power supply output voltage and current to be monitored and adjusted with the same scaling and include a 5V DC or 10V DC reference voltage. Signals are from 0 to 5V DC (V05) and 0 to 10V DC (V10) for all models and polarities of both the UMR-AA and UMR-A series. Output monitoring signals are fully buffered with high input impedance to ensure consistency regardless of load conditions.
The low impedance outputs are also claimed to have a programming accuracy that makes them suitable for use in a variety of systems, including those with digital and PLC control.
All models in the UMR-AA and UMR-A series are available with the V05 and V10 advanced interface options immediately.
View PDF