Features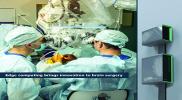 Edge Computing Leverages Modular Power in Scalable Micro Data Centres - May 2022
Edge computing is essential to realizing the full potential of artificial intelligence (AI), machine learning and internet of things (IoT). These technologies are being infused into every corner of...
More details...
Power Electronics Europe News
Compact SIP AC/DC power supply offers right angle versions
The low-profile PBK-B family is available in 1, 3 and 5W configurations. And measure 35 x 25 x 13mm for where board real estate is a premium.


Single output voltages are 3.3, 5, 9, 12, 15, and 24V DC and the supplies can operate at AC input voltages between 85 to 264V AC. For high voltage DC/DC applications, the modules also provide a DC input range spanning 100 to 400V DC. All models are designed for 3,000V AC/60s input to output isolation. They also have over current and continuous short circuit protection, and can function at a wide operating range from -40 to 85°C (1 and 3W models) and -25 to 85°C (the 5W model).

The supplies meet internationally recognized UL 60950-1/EN 60950-1 standards and comply with EN55022 Class B limits for conducted and radiated EMC with few additional external components required. They can be used in automation equipment, industrial systems, security applications, and telecommunication equipment.
View PDF