Features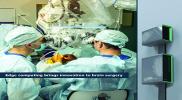 Edge Computing Leverages Modular Power in Scalable Micro Data Centres - May 2022
Edge computing is essential to realizing the full potential of artificial intelligence (AI), machine learning and internet of things (IoT). These technologies are being infused into every corner of...
More details...
Power Electronics Europe News
Integrated DC/DC digital PWM controller configures supplies for FPGAs and ASICs
The controller is
able to current share across multiple devices, and its range can be extended up to 300A for high-end FPGAs and ASICs employed in densely populated power supplies in servers, storage equipment and basestations, says Intersil. Used with the company's PowerNavigatorGUI, the controller is claimed to simplify system power conversion and speeds the design process.

The company's ChargeMode control loop architecture delivers transient response performance. The digital control loop corrects errors cycle-by-cycle, eliminating the need for compensation. Its high control loop bandwidth reduces the amount of output capacitance needed to meet the latest transient requirements of high-end FPGAs and ASICs, says the company, resulting in a smaller board size and lower bill of materials.

It supports the proprietary DDC (digital DC) bus for inter-controller communication. This bus allows for system-based sequencing, fault management and current sharing in conjunction with other digital power ICs from the company, all on a single wire. Configuration is managed with the graphical PowerNavigator tool to provide drag and drop sequencing control, which is autonomously managed in system. Current sharing is also enabled by the DDC bus, allowing up to four ZL8801s to be paralleled providing for high current power system designs.

The controller integrates discrete monitor, sequencer and system controller functions, so a designer can monitor and control every aspect of the power supply through a PMBus interface. Telemetric data can be read using the PowerNavigator GUI, including input voltage, input current, output voltage, output current, temperature and all fault conditions.





View PDF