Features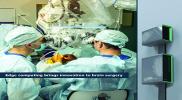 Edge Computing Leverages Modular Power in Scalable Micro Data Centres - May 2022
Edge computing is essential to realizing the full potential of artificial intelligence (AI), machine learning and internet of things (IoT). These technologies are being infused into every corner of...
More details...
Power Electronics Europe News
ON Semiconductor and Transphormto deliver GaN-based systems
The two companies have joined forces to co-develop GaN-based products using Transphorm's high voltage GaN transistors and power system reference designs.
Transphorm is recognised as the first company to bring to market production qualified 600VGaN on silicon transistors. ON Semiconductor will supply system design expertise from its experience in power discretes, high performance AC/DC controllers and integrated switchers to full custom ASIC power management devices.
The packaged products currently being co-developed will enable designers to achieve previously unobtainable levels of efficiency and power density, say the companies.
The first co-developed solutions based on 600 V GaN transistors are expected to be available for sampling before the end of 2014. They will address high power density applications in the 200 to 1000W power range for compact power supplies and adapters addressing the telecomms and server markets. Under the terms of the partnership, the co-developed packaged transistor products will include low voltage MOSFET silicon from ON Semiconductor for the cascoded switch, and GaN high voltage High-Electron-Mobility Transistors (HEMT) from Transphorm. Co-packaging, assembly and test of the devices will be done at ON Semiconductor production facilities.
View PDF