Features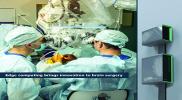 Edge Computing Leverages Modular Power in Scalable Micro Data Centres - May 2022
Edge computing is essential to realizing the full potential of artificial intelligence (AI), machine learning and internet of things (IoT). These technologies are being infused into every corner of...
More details...
Power Electronics Europe News
Compact fuse charges high wattage smartphones and tablets
Earlier generations of mobile phones had relatively low wattage (typically about 5W), compared to today's 10 to 15W, which requires withstanding higher levels of current.
The axial lead, 3.6 x 9mm fuse has filler material that provides a finely tuned balance between the surge tolerance necessary to prevent nuisance fuse tripping with the fuse's ability to open safely when a short-circuit occurs. The design lets it withstand up to 24 hits of 7.5kV ringwave surge, claims the company. It will open safely on a direct short condition without producing soot, sparks, and sounds. Typical applications include wall-mount smartphone and tablet chargers and 10‑20W power supply modules for other battery-powered consumer electronics.
View PDF