Features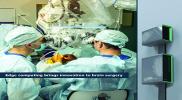 Edge Computing Leverages Modular Power in Scalable Micro Data Centres - May 2022
Edge computing is essential to realizing the full potential of artificial intelligence (AI), machine learning and internet of things (IoT). These technologies are being infused into every corner of...
More details...
Power Electronics Europe News
CUI, Ericsson Power Modules and Murata form consortium to standardise digital power
The consortium, Architects of Modern Power (AMP) intends to ensure a true second source for interoperable digital power design, with standards for both mechanical footprint and configurable software interfaces and files.
The founding members are CUI, Ericsson Power Modules and Murata aim to create an ecosystem of hardware, software and support for digital control in DC/DC converters and PoL regulators, driven initially by telecomms and datacomms companies, with a rise in IP traffic. A level of software compatibility will be required to achieve a true multi-source solution, including compatibility of PMBus commands, proprietary controller commands, and configuration files.
The consortium's long-term strategic alliance will foster close collaboration between members to develop shared technology roadmaps.
The participating companies will establish common mechanical and electrical specifications for products, standardisation of monitoring, control and communications functions, and to create common configuration files for plug-and-play interoperability between products from each firm.
The AMP Group will announce its first set of standards, for digital PoL regulators and advanced bus DC/DC converters, at electronica, Munich, November 2014.
View PDF