Features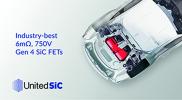 A New Approach to Circuit Breaker Design Using Silicon Carbide Switches - Nov 21
Mechanical circuit breakers can be low cost with minimal losses, but they operate slowly and wear out. Solid state versions overcome the problems and are becoming increasing viable as replacements at...
More details...
Power Electronics Europe News
MOSFET meets fast switching load needs
The AP2325GEU6-HF-3 P-channel enhancement-mode power MOSFET by APEC (Advanced Power Electronics Corp), can be used in high-switching applications such as load switches.
It combines fast switching, low on-resistance and cost-effectiveness, and has a low gate charge. It features a minimum drain-source breakdown voltage (BVDSS) of -20V, maximum RDS(ON) of 145mΩ, and a maximum continuous drain current (ID) at 25˚C of -1.8A.
It is offered in a RoHS/REACH-compliant, halogen-free SOT-363, surface-mount package, used in commercial and industrial applications where a small board footprint is required.
View PDF