Features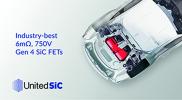 A New Approach to Circuit Breaker Design Using Silicon Carbide Switches - Nov 21
Mechanical circuit breakers can be low cost with minimal losses, but they operate slowly and wear out. Solid state versions overcome the problems and are becoming increasing viable as replacements at...
More details...
Power Electronics Europe News
Vishay Intertechnology adds calibration boot to resistor design
The shunt resistors have a solid metal nickel-chrome alloy resistive element with a calibration notch and boot design on their terminals, which improves temperature coefficient of resistance (TCR) performance (down to ± 10 ppm/°C) for better accuracy over temperature extremes, says the company.
Resistance is as low as 100µΩ and power rating is 36W, which combine to increase accuracy and lower costs compared with manganese alloy shunts and Hall Effect current sensing devices, claims Vishay. The two sense pins of the WSBS8518...35 aid in PCB mounting and provide consistent contact point locations on the shunt.
They are offered in the 8518 case size, with all welded construction. A proprietary processing technique produces low resistance values, which allow for high current capabilities.
Inductance values are less than 5nH and thermal EMF is down to less than 1.25µV/°C. Operating range is -65 to 170°C.
Samples and production quantities of the RoHs-compliant, halogen-free resistors are available now. Target applications are battery management in gas, diesel, hybrid, and electric cars and trucks, as well as electric forklifts, large UPS systems, and other heavy industrial applications.
Visit Vishay Intertechnology at PCIM Europe 2019 Hall 9-432
View PDF