Features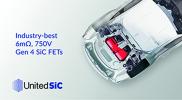 A New Approach to Circuit Breaker Design Using Silicon Carbide Switches - Nov 21
Mechanical circuit breakers can be low cost with minimal losses, but they operate slowly and wear out. Solid state versions overcome the problems and are becoming increasing viable as replacements at...
More details...
Power Electronics Europe News
Recom adds to medical DC/DC converter range
The addition to the company's medical portfolio offers medical certification are modular DC/DC converters which allow engineers to develop PCB layout confident that it will comply with the stringent regulations for medical certifications.
The board-mount REM2 2W medical grade DC/DC converter is in a compact SIP8 package with either single or dual outputs. There is a reinforced 5.2kV DC/one minute isolation and two means of patient protection (2 MOPP)/250V AC working voltage at 5000m. The modules reach up to 85% efficiency at an operating temperature range of -40 to 80°C without derating and up to 95°C with 50% load.
The converters comply to class A/B EMC and 60601-1-2 (4th edition) medical EMC using a simple external LC filter and are certified to CB, IEC/EN, and ANSI/AAMI 60601-1 (3rd edition) medical safety standards. They also carry a five-year warranty.
Samples are available from Recom and all authorised distributors.

Visit Recom at PCIM Europe 2019 Hall 6-229

View PDF