Features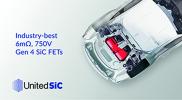 A New Approach to Circuit Breaker Design Using Silicon Carbide Switches - Nov 21
Mechanical circuit breakers can be low cost with minimal losses, but they operate slowly and wear out. Solid state versions overcome the problems and are becoming increasing viable as replacements at...
More details...
Power Electronics Europe News
Flex Power Modules adds wide-input DC/DC converters for rail and industry
The PKE8000A and PKE7000A modules are in sealed and encapsulated packaging, for reliable operation even when subjected to dust, moisture, severe vibration and other harsh conditions.
The models in the PKE8000A series are designed for industrial applications. They are offered in the industry standard 2.0 x 1.0 inch (50 x 24mm) form factor and operate from 12, 24 or 48V supplies, with a wide input range of 9.0 to 75V. Output power is up to 40W at up to 91% efficiency and MTBF is up to 4m hours. Input to output isolation is 2250V DC.
The PKE7000A series is designed for railway applications. Modules meet the latest IEC/EN/UL62368-1 safety standards and comply with the EN50155 railway standard.
The same form factor is used and operation is from 43 to 160V input, delivering up to 30W, making the converters suitable for the majority of onboard requirements running from 72V and/or 110V nominal supplies, which are commonly found in the railway sector. The MTBF isup to 5m hours.
Both ranges are available now for sampling and volume production requirements.
View PDF