Features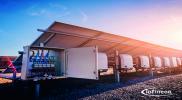 Benefits of CoolSiC MOSFETs in Bi-Directional Inverter Applications - July 2021
With the move to renewable energy, there is an increased focus not only on generation but also storage, to make the most of the intermittent supply from wind and solar. Batteries are the common...
More details...
Power Electronics Europe News
DC/DC converters have 10:1 input range
The wide input voltage range of the DC/DC converters give extra flexibility when designing equipment, enabling them to be powered from high-voltage batteries, or to operate from various different standardised supply voltages, says Dengrove.
The RPA100H and RPA200H have a 10:1 input range allowing operation from 16.5 to 140V. They comply with EN 50155, for electronic equipment designed for railway rolling stock, and can work with any nominal input voltage from 24 to 110V used in railway systems. The safely handle transients as specified in the European standard, says the company.
Rated at 100 and 200W respectively, the converters have a single output selectable as 12, 15, 24 or 48V. Typical operating efficiency of up to 93% extends runtime in battery-powered applications, and helps simplify thermal management. To maximise reliability the modules have an integrated metal baseplate that allows operation in high ambient temperatures, up to 97°C with active cooling. The case has threaded inserts that allow the modules to be bolted to a PCB or bulkhead in applications subject to high shock or vibration.
The DC/DC converters are certified to IEC/UL/EN 60950-1 and are covered by a three-year manufacturer's warranty.
View PDF