Features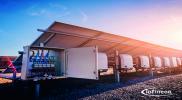 Benefits of CoolSiC MOSFETs in Bi-Directional Inverter Applications - July 2021
With the move to renewable energy, there is an increased focus not only on generation but also storage, to make the most of the intermittent supply from wind and solar. Batteries are the common...
More details...
Power Electronics Europe News
Surface-mount brushed motor driver IC supports higher voltages
The company points out that brushed motors used in printers and office equipment also require a high power drive to produce the high levels of torque required. Industry watchers expect more applications to become automated and use motors, with an increase in demand for compact, space-saving solutions.
High-power brushed motor drives require a high voltage output, which can strain the driver circuit. Another challenge is that brushed motors require support for inrush current that can strain drivers. Normally high-power drives are realised with mixed technology using an integrated driver and discrete switching MOSFETs, although this approach can increase the component count, increasing cost and size.
The IC is based on the company's latest 130nm process technology and incorporates a single output bridge mode that can deliver up to 9.0A at 50V. It also has the ability to control two brushed motors (50V, 4.5A / two channels), as it incorporates a dual bridge mode that can control each channel independently, using two distinct output channels.
The brushed motor driver is provided in a small 7.0 x 7.0mm QFN48 surface-mount package. The inbuilt MOSFETs have low on-resistance of 0.17Ω in single bridge mode and 0.33Ω in dual bridge mode, for efficient operation and minimal heat generation, says the company.
There is a current limiter and built-in error detections for over-temperature, over-current and under-voltage lock out. There is also a frequently requested error detection output, which flags any errors to the system.
The brushed motor driver also features the company's Advanced Current Detection System (ACDS) that monitors and controls current without the use of sense resistors, thereby saving PCB space and reducing bill of materials.
The IC is in mass production.
View PDF