Features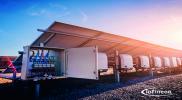 Benefits of CoolSiC MOSFETs in Bi-Directional Inverter Applications - July 2021
With the move to renewable energy, there is an increased focus not only on generation but also storage, to make the most of the intermittent supply from wind and solar. Batteries are the common...
More details...
Power Electronics Europe News
Soft IGBT freewheeling diodes minimise switching losses
Building on the company's IGCT freewheeling diode family, based on a monolithic silicon design, they have an improved turn-off capability which now rates at 5kA/µs.
Typical applications include for the diodes are high voltage DC (HVDC) transmission and flexible AC transmission system (FACTS) and medium voltage drives using voltage source converters.
The company claims the diodes have an industry leading low on-state loss. The monolithic silicon design creates an active silicon area increased by more than 25% compared to multi-chip diodes. The design improves the switching power up to six to 10MW at a maximum junction temperature of 140°C. Compared to a free-floating contact without solid metallurgical connection between silicon and molybdenum carrier, the thermal resistance of the new, bonded device is about 20% lower.
They also feature minimum switching losses. Its soft reverse-recovery behaviour shows no improper oscillations under relevant operating conditions. In addition to electric parameters, the mechanical concept simplifies the stack construction with series stacking of press-pack IGBTs and freewheeling diodes, says the company. This reduces the time needed for stack design by about 50%.
The soft IGBT freewheeling diodes are supplied in press-pack housings and available with 4.5kV blocking voltage. There are three silicon diameters, the D1600U45X122, D2700U45X122, and D4600U45X172.
View PDF