Features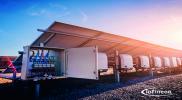 Benefits of CoolSiC MOSFETs in Bi-Directional Inverter Applications - July 2021
With the move to renewable energy, there is an increased focus not only on generation but also storage, to make the most of the intermittent supply from wind and solar. Batteries are the common...
More details...
Power Electronics Europe News
Half-bridge IGBT modules suit low inductive designs
Adding to its portfolio, the company has announced the MIDA series will join its MIAA (62mm) and MIFA (34mm) modules, available in topologies from 75 to 400A at 1200 and 1700V. The new modules will expand the current rates from 75 up to 600A.
The low inductance modules feature optimised electrical performance combined with high reliability, improved direct copper bonding (DCB) and improved thermal and power cycling.
The IGBT modules are equipped with Trench FS technology supporting very high junction temperatures of Tvj (op) = 175°C, which makes the modules suitable for photovoltaic systems, wind power, drives and uninterruptable power supplies (UPS).
The half-bridge modules range from 300 to 600A at 1200 and 1700V, also available with thermal interface material (TIM).
The MIDA-HB12FA-300N, -HB12FA-450N, -HB12FA-600N, -HB17FA-300N and -HB17FA-450N will be presented at PCIM Europe 2018 show (5 to 7 June 2018) in Nuremberg, Germany. The company will present 10 new developments at its stand in Hall 9, 115.
View PDF