Features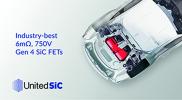 A New Approach to Circuit Breaker Design Using Silicon Carbide Switches - Nov 21
Mechanical circuit breakers can be low cost with minimal losses, but they operate slowly and wear out. Solid state versions overcome the problems and are becoming increasing viable as replacements at...
More details...
Power Electronics Europe News
Automotive Zener diodes are high voltage for ECUs
The UDZLV and KDZLV series are comprised of 12 models in Zener voltages from 51 to 150V. They are AEC-Q101-compliant and, according to the company provide superior surge resistance for greater reliability, making them suitable for industrial and consumer applications as well as automotive ECUs.
Zener diodes maintain a constant voltage even when abnormally large currents temporarily flow through the circuit in order to prevent damage to electronic equipment. Until now, the company has offered low voltage (2.0 to 47V) Zener diodes, designed for power supplies in smartphones and portable devices. In response to increased focus on the automotive and industrial sectors, the company has expanded its UDZV diodes to include the high-voltage UDZLV series, rated at 0.2W in a compact 2.5 x 1.2mm package. It also offers the KDZLV series of high voltage 1.0W-rated Zener diodes for automotive and industrial applications, available in a 3.5 x 1.6mm form factor.
Both series are available now. Both use material and process optimization to ensure high surge immunity while maintaining low noise characteristics, says the company
View PDF