Features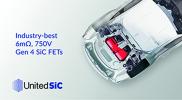 A New Approach to Circuit Breaker Design Using Silicon Carbide Switches - Nov 21
Mechanical circuit breakers can be low cost with minimal losses, but they operate slowly and wear out. Solid state versions overcome the problems and are becoming increasing viable as replacements at...
More details...
Power Electronics Europe News
Dengrove adds half-brick DC/DC converters for rail
The DC/DC converters deliver up to 120W in the industry-standard half-brick footprint of 61.0 x 57.9mm.
They satisfy EN50155, the harmonised European standard covering electronic equipment for railway rolling stock and comply with the UL and IEC/EN 60950-1 industrial safety specifications. They are suitable for a range of communication, control and monitoring applications.
The single-output converter can be specified with either 12, 15 or 24V output voltage, and has a wide 4:1input-voltage range spanning 53 to 154V. Tight output-voltage regulation, with ripple and noise below 100mVp-p, ensure stable power for sensitive equipment deployed in challenging environments, says the company. The output voltage can be trimmed by ±10% using external trim-up and trim-down resistors, or adjusted via remote-sense inputs.
Protection includes over-temperature, short-circuit, over-current and over-voltage. The converters also ensure user safety by providing 3kV isolation and meeting standards for reinforced insulation. All units are covered with the manufacturer's three-year manufacturer's warranty.
The units are fitted with an aluminium heatsink, and operate with case temperature up to 100°C. They can be specified with an active-high or active-low control pin output, and also provide the option of output gating that provides a convenient means of powering-down the load to save energy while allowing fast wake-up from standby. Full-load efficiency of up to 88.5% minimises power dissipation when active.
View PDF