Features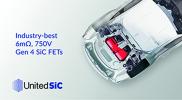 A New Approach to Circuit Breaker Design Using Silicon Carbide Switches - Nov 21
Mechanical circuit breakers can be low cost with minimal losses, but they operate slowly and wear out. Solid state versions overcome the problems and are becoming increasing viable as replacements at...
More details...
Power Electronics Europe News
Compact 80W AC/DC modules are encapsulated
The ECE80 series of 80W single output AC/DC are designed for customers requiring encapsulated AC/DC power in a compact format for either PCB, chassis, or DIN-rail mounting.
According to the company, it has the smallest footprint and highest power density in the industry for an 80W encapsulated power supply module. There are three formats, available. The standard part comes as a PCB mount version, there is a chassis-mount version with screw terminals, and the DIN rail version has screw terminals.
The modules are suitable for class II applications and offer Class B EMI without any additional filtering, for example in automation and process control, broadcast, instrumentation, mobile comms and home automation.
Peak load capability is up to 130% of nominal rated power output for 30 seconds, meaning the modules are able to power short term higher power loads. Designers may not need to specify a higher rated and possible physically larger power supply.
Power density is above 11.2W/in3. The PCB mount module measures 91.4 x 45.72 x 28.0mm and the chassis mount module measures 113.0 x 47.5 x 28.5mm. Five standard output voltages are available from 12 to 48V DC.
The 0.3W no load power consumption and efficiency figure of up to 89% helps designers meet current green requirements, says the company, while class II construction means that no ground (earth) connection is required, simplifying design.
Operating temperature is -40 to 70°C, with no derating until 50°C. The modules can therefore operate in most environments with no need for additional heat sinking or airflow.
The modules meet Class B conducted and radiated EMC limits without any additional components, and are UL/CSA/EN/IEC 60950-1 safety agency approved.
View PDF