Features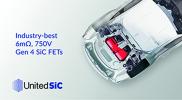 A New Approach to Circuit Breaker Design Using Silicon Carbide Switches - Nov 21
Mechanical circuit breakers can be low cost with minimal losses, but they operate slowly and wear out. Solid state versions overcome the problems and are becoming increasing viable as replacements at...
More details...
Power Electronics Europe News
N-channel MOSFETs reduce heat dissipation
The SSM6K513NU and SSM6K514NU use U-MOS IX-H series trench process. According to Toshiba Electronics Europe, it ensures that the MOSFETs achieve low on-resistances, claims the company.
RDS(ON) rating are 6.5mOhm for the 30V SSM6K513NU and 8.9mOhm for the 40V SSM6K514NU. This allows the new products to reduce heat dissipation resulting from turn-on loss by approximately 40 per cent when compared with the company's existing products.
The SSM6K513NU and SSM6K514NU can be used in electric power switching applications over 10W, including small-size mobile devices that meet the USB Type-C and USB Power Delivery (PD) standards.
Both MOSFETs are housed in compact SOT-1220 packages.
View PDF