Features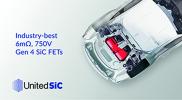 A New Approach to Circuit Breaker Design Using Silicon Carbide Switches - Nov 21
Mechanical circuit breakers can be low cost with minimal losses, but they operate slowly and wear out. Solid state versions overcome the problems and are becoming increasing viable as replacements at...
More details...
Power Electronics Europe News
DC/DC converter modules use baseplate cooling
The 250W isolated DC/DC quarter-brick converter has typical 92% efficiency and are believed to be the only power modules on the market to offer 250W output from a quarter-brick format with a 4:1 (9 to 36V DC) Vin range. The series is designed for rough service/industrial applications and has a specially designed, enclosed package that uses baseplate cooling to improve thermal performance. The electrical and mechanical design allows the modules to deliver the full 255W output power with a baseplate temperature in the range of -40 to 90°C without derating, says the company.
It is also designed to meet the environmental stress limits for shock and vibration specified in MIL-STD-810G throughout its service life.
The ICQ0120V1PC incorporates proprietary circuit architectures, synchronous rectification, advanced packaging, and thermal design approaches.
It delivers a regulated 12V DC output rated at 20A and provides a basic insulation system for galvanic I/O isolation rated at 2,500V DC.
The series has been designed to meet EN60950, UL/CSA safety requirements for embedded power modules.
The industry-standard quarter-brick package measures 39.1 x 60.7 x 12.7mm (1.54 x 2.39 x 0.50inches) and can be a drop-in replacement for lower power, less efficient converters, says the company.
All models have a positive logic remote on/off control as the standard configuration, and full protection features including input transient protection to 50V DC, over temperature shutdown, output over current, and input under voltage lockout.
The ICQ series is scheduled for production release in January 2017. Pre-production samples are available upon request.
View PDF