Features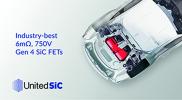 A New Approach to Circuit Breaker Design Using Silicon Carbide Switches - Nov 21
Mechanical circuit breakers can be low cost with minimal losses, but they operate slowly and wear out. Solid state versions overcome the problems and are becoming increasing viable as replacements at...
More details...
Power Electronics Europe News
Renesas Acquires Intersil
The merger & acquisition carousel is still turning around. After the Analog Devices / Linear Technology merger, Infineons acquisition of International Rectifier and recently Wolfspeed, now Japaneses Renesas is to acquire Intersil, a leading provider of power management and precision analog solutions. Renesas acquires Intersil for $22.50 per share in cash, representing an aggregate equity value of $3.2 billion. The transaction has been unanimously approved by the boards of directors of both companies. Closing of the transaction is expected in the first half of 2017.
The acquisition combines two long-standing industry leaders in their respective segments. Together, Renesas' and Intersil's expertise across a number of state-of-the-art technologies and end markets will enable the combined company to become a complete solution provider of embedded systems. By combining Renesas' microcontroller (MCU) and system-on-chip (SoC) products and technologies and Intersil's power management and precision analog capability, Renesas will be well positioned to address some of the most exciting opportunities in key areas such as automotive, industrial, cloud computing, healthcare, and the Internet of Things (IoT). The acquisition is also expected to grow Renesas' served product lines, particularly for analog devices, where the market is expected to increase by approximately $3.9 billion by 2020. "Renesas is accelerating its focus of resources in automotive, industrial, infrastructure, and the rapidly growing IoT segments to grow its global business and maintain its position as a leading provider. Intersil's extensive portfolio of analog and power devices as well as its strength in the automotive, industrial, and broad-based segments complement many of our initiatives in these areas," said Bunsei Kure, CEO of Renesas Electronics Corporation. "We believe that this compelling and complementary combination will bring significant synergies and cross selling opportunities as well as system solution proposition which will pave the way for Renesas to strengthen its position as a leader in the global semiconductor market".
www.renesas.com, www.intersil.com