Features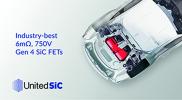 A New Approach to Circuit Breaker Design Using Silicon Carbide Switches - Nov 21
Mechanical circuit breakers can be low cost with minimal losses, but they operate slowly and wear out. Solid state versions overcome the problems and are becoming increasing viable as replacements at...
More details...
Power Electronics Europe News
Isolated DC/DC converters are encapsulated and rugged
Measuring 25.4 x 25.4 x 10.16mm (1 x 1 x 0.40 inch), they can replace larger 1.0 x 2.0inch modules, says the company. They feature a 4:1 input voltage range of 9.0 to 36 or 18 to 75V DC with high typical efficiencies up to 90%.

The low-profile DIP, with a five-sided, shielded metal case, are available with single regulated output voltages of 3.3, 5.0, 12 and 15V DC or dual regulated output voltages of ±5.0, ±12 and ±15V DC.

The wide temperature range of -40 to 105°C and encapsulated design make the converters suitable for convection-cooled equipment and harsh environments. Target applications include telecomms, industrial, remote sensor systems and portable electronics.

All models offer an input to output isolation of 1,500V DC and feature remote on/off control. Single output models also offer output voltage trimming that allows for a ±10% adjustment of the nominal output. There is over-voltage, input under-voltage lockout and continuous short circuit protection.

Visit CUI's booth (Power Hall A2, Booth 613) at electronica 2016 November 8-11, 2016.
View PDF