Features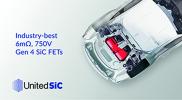 A New Approach to Circuit Breaker Design Using Silicon Carbide Switches - Nov 21
Mechanical circuit breakers can be low cost with minimal losses, but they operate slowly and wear out. Solid state versions overcome the problems and are becoming increasing viable as replacements at...
More details...
Power Electronics Europe News
Renesas to acquire Intersil for $3.2billion
The transaction has been unanimously approved by the boards of directors of both companies. Closing of the transaction is expected in the first half of 2017, following approval by Intersil shareholders and the relevant governmental authorities.

The acquisition will combine microcontroller and system-on-chip (SoC) products and technologies and Intersil's power management and precision analogue capability, for key areas such as automotive, industrial, cloud computing, healthcare, and the Internet of Things (IoT).

The acquisition is also expected to grow Renesas' served product lines, particularly for analog devices, where the market is expected to increase by approximately US$3.9billion by 2020.

Bunsei Kure, Representative Director, President and CEO of Renesas Electronics Corporation said: Intersil's extensive portfolio of analogue and power devices as well as its strength in the automotive, industrial, and broad-based segments complement many of Renesas' initiatives in these areas".
View PDF