Features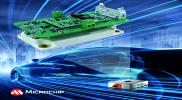 Evaluating Three Key Pieces of a SiC Total System Solution - October 2020
Following a rapid expansion of SiC product options, the industry's next challenge is simplifying the design-in process for end users. Power system developers need holistic solutions that address not...
More details...
Linear voltage regulators operate at automotive temperatures
Designed for high reliability, high temperature applications, the CMT-Antares is Cissoid's latest regulator.
More details...
Power Electronics Europe News
Solar charging is an open and shut case
It uses monocrystalline 3.2W solar panels and an integral 5000mAh Lithium Polymer battery to charge mobile phones, MP3 players, digital cameras and any device that is charged with a standard 5V 1A USB charger, says Powersolve.
According to the company, there are many solar chargers available that are not capable of providing enough power to charge a smartphone, whereas this model can more than treble the talk time.
When closed, the book-style charger measures just 6x4inches. LED indicators show when the charger is in use, charging or fully charged.
It is supplied with charging cable and eight connectors for the most popular smart phones and mobile devices.
View PDF