Features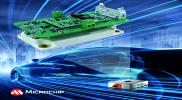 Evaluating Three Key Pieces of a SiC Total System Solution - October 2020
Following a rapid expansion of SiC product options, the industry's next challenge is simplifying the design-in process for end users. Power system developers need holistic solutions that address not...
More details...
Linear voltage regulators operate at automotive temperatures
Designed for high reliability, high temperature applications, the CMT-Antares is Cissoid's latest regulator.
More details...
Power Electronics Europe News
MOSFET meets fast switching load needs
The AP2325GEU6-HF-3 P-channel enhancement-mode power MOSFET by APEC (Advanced Power Electronics Corp), can be used in high-switching applications such as load switches.
It combines fast switching, low on-resistance and cost-effectiveness, and has a low gate charge. It features a minimum drain-source breakdown voltage (BVDSS) of -20V, maximum RDS(ON) of 145mΩ, and a maximum continuous drain current (ID) at 25˚C of -1.8A.
It is offered in a RoHS/REACH-compliant, halogen-free SOT-363, surface-mount package, used in commercial and industrial applications where a small board footprint is required.
View PDF