Features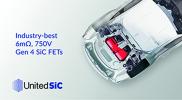 A New Approach to Circuit Breaker Design Using Silicon Carbide Switches - Nov 21
Mechanical circuit breakers can be low cost with minimal losses, but they operate slowly and wear out. Solid state versions overcome the problems and are becoming increasing viable as replacements at...
More details...
Power Electronics Europe News
Three mixed-voltage NPCs suit solar inverters
The flow3xMNPC 1 modules enable compact, space-saving inverters with 98.7ïficiency ratings in typical 16kHz solar applications, says Vincotech. Measuring 82 x 38mm and 12 or 17mm in height, the modules support three phases. They are equipped with 1200V IGBT4 HS3s (high speed) in the half bridge and 600V IGBT3s with low saturation voltage and ultra fast Stealth diodes in the neutral path. Dual-module versions combine a booster and three-phase inverter, which makes them a option for smaller inverters where space is limited. Rather than using a common emitter that requires seven power supplies, the M74x topology features a common collector configuration, to reduce the number of power supplies for the gate driver to five. The IGBTs are equipped with Kelvin emitters to boost switching performance and an NTC for measuring temperature. The company's ISE simulation tool provides flow3xMNPC 1 simulation models. Press-fit versions are also available on request.
View PDF