Features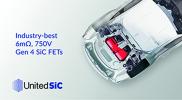 A New Approach to Circuit Breaker Design Using Silicon Carbide Switches - Nov 21
Mechanical circuit breakers can be low cost with minimal losses, but they operate slowly and wear out. Solid state versions overcome the problems and are becoming increasing viable as replacements at...
More details...
Power Electronics Europe News
Rutronik offers Diodes dual phase buck controller
The controller is designed to provide a high integrity supply for distributed high-power architectures. With an operating frequency adjustable over the range of 50Hz to 1MHz per phase, the buck controller can deliver an output current of up to 60A. It is available in the standard QFN4x4-24 package. Integrated bootstrapped MOSFET drivers ensure high efficiency power conversion, says the company. To optimise system performance, the gate drive voltage is fully configurable and regulated via a reference input set using external voltage divider. By tuning the duty cycle of each channel in response to internal MOSFET on-resistance sensing, the controller ensures phase currents are always balanced. With a power saving interface, the controller can switch between single and dual mode to help reduce losses. To ensure high reliability operation at high currents, the buck controller features a comprehensive range of in-built protection features, including over-current, I/O under-voltage, over-voltage and over-temperature protection. An adjustable soft start facility is integrated.
View PDF