Features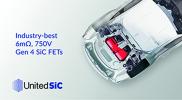 A New Approach to Circuit Breaker Design Using Silicon Carbide Switches - Nov 21
Mechanical circuit breakers can be low cost with minimal losses, but they operate slowly and wear out. Solid state versions overcome the problems and are becoming increasing viable as replacements at...
More details...
Power Electronics Europe News
DC/DC step-down power module
The integrated module can be used across multiple applications from telecomms and network infrastructure to factory test equipment. It supports a wide input range from 10 to 80V with an adjustable 2.5 to 30V output range, making it suitable for 12, 24, 36 and 48V inputs, including high voltage embedded board controllers. The turnkey power module solution requires only five external components, and is packaged in a rugged, thermally enhanced 15 x 15 x 3.6 mm over-moulded high-density array, which, according to the company, permits full load operation without a heatsink or fans. The protection features include over-current, over-voltage, under-voltage and over-temperature shutdown.
View PDF