Features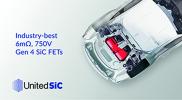 A New Approach to Circuit Breaker Design Using Silicon Carbide Switches - Nov 21
Mechanical circuit breakers can be low cost with minimal losses, but they operate slowly and wear out. Solid state versions overcome the problems and are becoming increasing viable as replacements at...
More details...
Power Electronics Europe News
MOSFETs claim to be smallest for adapters, consumer and lighting
The MOSFET in a new leadless surface mounted package, guarantees, says the company, more flexibility in PCB designs and better switching performance, improving power conversion efficiency while reducing overall system size in low power adapters, lighting and thin panel TVs. Engineering samples are available now. Volume production will begin in September 2014.
View PDF