Features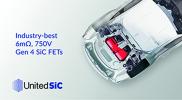 A New Approach to Circuit Breaker Design Using Silicon Carbide Switches - Nov 21
Mechanical circuit breakers can be low cost with minimal losses, but they operate slowly and wear out. Solid state versions overcome the problems and are becoming increasing viable as replacements at...
More details...
Power Electronics Europe News
PCIM Europe 2014 records increased visitor numbers
In the three days of the exhibition and conference, visitors came to PCIM Europe to learn about a variety of new products and services. Messe Nuremberg reports that a total of 391 exhibitors and 97 representing companies presented a range of products and services on an area of 20,000 square metres. At the conference, which took place alongside the exhibition, 710 participants caught up with the latest perspectives and developments of power electronics, intelligent motion, renewable energy and energy management. The organisers confirm that a full report will be available by the end of June after detailed analysis of the event. PCIM Europe 2015 will take place from 19 - 21 May 2015 at the exhibition centre in Nuremberg.
View PDF