Features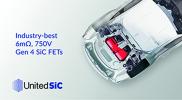 A New Approach to Circuit Breaker Design Using Silicon Carbide Switches - Nov 21
Mechanical circuit breakers can be low cost with minimal losses, but they operate slowly and wear out. Solid state versions overcome the problems and are becoming increasing viable as replacements at...
More details...
Power Electronics Europe News
Compliance service is launched for power market
The service claims to fulfil the compliance requirements for companies in an economic and timely way. Product Approvals is staffed by experienced compliance specialists with a diverse set of product management, engineering and regulatory expertise. As manufacturers find that the route to increased sales is through exporting to Europe and beyond, they also have to meet the diverse technical and regulatory requirements of these regions. The Compliance Management Service includes predictable compliance management costs for target markets; short term contracts and discounts for longer contracts; compliance experts with knowledge of power electronics products and processes; access to multiple compliance specialists including safety, EMC, environmental – this is, says the company more expertise than is available in many companies. The service removes the burden of keeping up to date with constantly changing regulations and allows for the transfer of crucial design-for-compliance knowledge to key engineering personnel.
View PDF