Features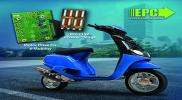 Integrated GaN Power Stage for eMobility - issue 2/2020
Brushless DC (BLDC) motors are a popular choice and are finding increasing application in robotics, drones, electric bicycles, and electric scooters. All these applications are particularly sensitive...
More details...
Linear voltage regulators operate at automotive temperatures
Designed for high reliability, high temperature applications, the CMT-Antares is Cissoid's latest regulator.
More details...
Test Systems and Equipment Features
Setting a new standard for power semiconductors test and measurement - issue 4/2016

July, 28 2016

Continued improvements in the performance of power semiconductors drives demand for corresponding improvements in testing technology...
View PDF

---
Quantification of cracked areas in IGBT Modules - issue 4/2016

July, 28 2016

Degradation of the thermal conduction path is one of the most common failure mechanisms of power semiconductor modules....
View PDF

---
Challenges of Wide Bandgap Power Semiconductor testing - issue 8/2014

December, 15 2014

Devices based on Silicon Carbide (SiC) and Gallium Nitride (GaN) can switch at much higher frequencies and also have far lower leakage than Silicon, so at the same time as there is a need for sourcing higher voltages in testing there is also a need for greater current measurement sensitivity..
View PDF

---
Quality Test Systems for High-Power Semiconductors - issue 8/2013

December, 24 2013

With more than 30 years of experience, ABB designs and manufactures CE compliant customized test systems, covering the entire range of high-power semiconductor testing capabilities....
View PDF

---