Features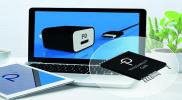 GaN-based switcher ICs empower next-generation power products - issue 1/2020
There have been a number of disruptive advances in the power electronics community over the last 20 years....
More details...
Linear voltage regulators operate at automotive temperatures
Designed for high reliability, high temperature applications, the CMT-Antares is Cissoid's latest regulator.
More details...
Feature Spotlight
Power Capacitor Technologies for WBG Power Semiconductors - issues 6/2019
December 9, 2019

In the field of power electronics conventional semiconductors based on Silicon are increasingly being replaced by wide band-gap (WBG) technologies based on GaN and SiC...

Download PDF