Features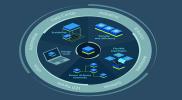 Power of the Module - Nov/Dec 2020
Vicor has established a power module capability spanning product design, manufacturing, simulation and selection tools. This capability allows Vicor to enable power systems designers to quickly and...
More details...
Feature Spotlight
Evaluating Three Key Pieces of a SiC Total System Solution - October 2020
September 30, 2020

Following a rapid expansion of SiC product options, the industry's next challenge is simplifying the design-in process for end users. Power system developers need holistic solutions that address not only typical design elements individually but which recognise the importance of their interactions...

Download PDF