Features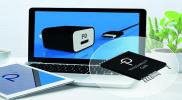 GaN-based switcher ICs empower next-generation power products - issue 1/2020
There have been a number of disruptive advances in the power electronics community over the last 20 years....
More details...
Linear voltage regulators operate at automotive temperatures
Designed for high reliability, high temperature applications, the CMT-Antares is Cissoid's latest regulator.
More details...
Power Electronics Europe Issue Archive
Issue 7 2008 - POWER SOLUTIONS FOR MOBILE TV APPLICATIONS IN CELLULAR HANDSETS
November 19, 2008
Mobile phones have evolved from simplistic devices of portable communication to dynamic multi-functional pieces of technology. Today, despite drastic reductions in size, users demand more and more features, ranging from internet connectivity to video highlights. These features necessitate modifications to the power solutions deployed in the handset; very efficient power management solutions that are small in real estate are required in order to maintain battery life. This article looks at delivering the miniature high-efficiency power management solutions needed to power up processor applications such as DVB-H modules.

Download Issue Archive