Features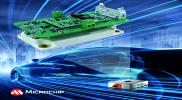 Evaluating Three Key Pieces of a SiC Total System Solution - October 2020
Following a rapid expansion of SiC product options, the industry's next challenge is simplifying the design-in process for end users. Power system developers need holistic solutions that address not...
More details...
Linear voltage regulators operate at automotive temperatures
Designed for high reliability, high temperature applications, the CMT-Antares is Cissoid's latest regulator.
More details...
Power Electronics Europe Issue Archive
Issue 1/2010- Improvement of New Automotive Power Semiconductor Packages
March 1, 2010
Steadily but surely automotive manufacturers are loking to design out the engine driven auxilliary loads such as fuel, water, brake and power steering pumps with electric driven ones...

Download Issue Archive