Features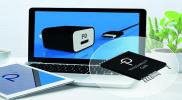 GaN-based switcher ICs empower next-generation power products - issue 1/2020
There have been a number of disruptive advances in the power electronics community over the last 20 years....
More details...
Linear voltage regulators operate at automotive temperatures
Designed for high reliability, high temperature applications, the CMT-Antares is Cissoid's latest regulator.
More details...
Power Electronics Europe Issue Archive
Power density is today's magic word in the world of high tech yet affordable electric drives, especially when it comes to the two workhorses in power electronics - the IGBT and its accompanying free-wheeling diode. Together, these two components ...
Read more

Selecting the best IGBT for an application can be confusing and time-consuming, so is it worth the time? In this article, we will attempt to simplify the selection process by providing an explanation for the trade-offs to be considered. To ...
Read more

Increasing demand for gas, price rise and environmental concerns are driving a market that is in need of alternative solutions. The advantage that a HEV offers with regard to construction and design aspects is that the engine designed in a HEV is ...
Read more

Selecting the Most Effective Current Sensing Technology ...
Read more