Features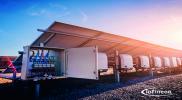 Benefits of CoolSiC MOSFETs in Bi-Directional Inverter Applications - July 2021
With the move to renewable energy, there is an increased focus not only on generation but also storage, to make the most of the intermittent supply from wind and solar. Batteries are the common...
More details...
Power Electronics Europe Issue Archive
The extremely compact and high-performance IGBTs of the PrimePACK series from Infineon Technologies AG enable scalable power converter system solutions optimised for various industrial drives, windmills, elevators, traction and auxiliary drives. ...
Read more

Power density is today's magic word in the world of high tech yet affordable electric drives, especially when it comes to the two workhorses in power electronics - the IGBT and its accompanying free-wheeling diode. Together, these two components ...
Read more

Selecting the best IGBT for an application can be confusing and time-consuming, so is it worth the time? In this article, we will attempt to simplify the selection process by providing an explanation for the trade-offs to be considered. To ...
Read more

Increasing demand for gas, price rise and environmental concerns are driving a market that is in need of alternative solutions. The advantage that a HEV offers with regard to construction and design aspects is that the engine designed in a HEV is ...
Read more

Selecting the Most Effective Current Sensing Technology ...
Read more