Features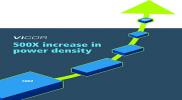 Innovating Power Module Packaging - April/May 21
A systemís power delivery network or PDN is made up of passive and active components such as cables, connectors, AC-DC and DC-DC converters and regulators. As power levels increase to enable new
More details...
Power Electronics Europe Issue Archive
Selecting the best IGBT for an application can be confusing and time-consuming, so is it worth the time? In this article, we will attempt to simplify the selection process by providing an explanation for the trade-offs to be considered. To ...
Read more

Increasing demand for gas, price rise and environmental concerns are driving a market that is in need of alternative solutions. The advantage that a HEV offers with regard to construction and design aspects is that the engine designed in a HEV is ...
Read more

Selecting the Most Effective Current Sensing Technology ...
Read more