Features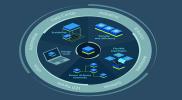 Power of the Module - Nov/Dec 2020
Vicor has established a power module capability spanning product design, manufacturing, simulation and selection tools. This capability allows Vicor to enable power systems designers to quickly and...
More details...
Power Electronics Europe News
EPC offers two demo boards for 48V DC/DC conversion
The boards are designed for developers of thin laptops, displays, high end gaming systems and other physically thin consumer electronics products.
The EPC9153 is a 250Wpower module using a simple, low-cost synchronous buck configuration delivering 98.2% peak efficiency. It has a maximum component height of 6.5mm. The EPC9148 uses a multi-level topology enabling a maximum component height of less than 4mm, while maintaining a 98% peak efficiency.
Both boards integrate Microchip Technology's dsPIC33CK digital signal controller (DSC) with 100V eGaN FETs from Efficient Power Conversion (EPC). The flexibility of the DSC allows the input voltage of these boards to be adjusted from 44 to 60V and the output voltage from 5.0 to 20V. Current consumption is 12.5A.
The EPC9148 multi-level converter reduces the size of modules supporting magnetic components. It includes a custom-designed thin power inductor from Würth Elektronik, contributing to the high power density of the design.
The EPC9153 offers a simple, low-cost synchronous buck configuration that minimises component height and with less than 40°C temperature rise at 20V output. eGaN FETs have a fast switching capability and a chip-scale footprint allows designers to achieve the low temperature rise required for compact designs such as computers, displays and smart phones.
Both demonstration boards are available for immediate delivery from Digi-Key.
View PDF