Features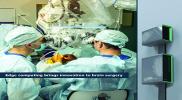 Edge Computing Leverages Modular Power in Scalable Micro Data Centres - May 2022
Edge computing is essential to realizing the full potential of artificial intelligence (AI), machine learning and internet of things (IoT). These technologies are being infused into every corner of...
More details...
Power Electronics Europe News
UWB module ensures precision detection
Measuring just 10.5 x 8.3 x 1.4mm, the module, with Bluetooth low energy (BLE)connectivity uses short range RF technology for detection. For example, it can be used to ensure social distancing to minimise the spread of Covid-19.
The system in package (SiP) incorporates two UWB antenna for phased difference of arrival (PDoA) and a third antenna is for BLE.
The module has high-accuracy position detection capabilities and security functions making it suitable for healthcare and wearable devices and for use in industrial and commercial, home and consumer IoT applications. It is able to perform asset tracking, indoor navigation, smart lighting, digital payments and location applications, for example proximity device finding.
It can also be used in factories, information kiosks or indoor marketing terminals, hospitals, museums, warehouses and underground construction projects.
According to Murata the UWB module offers significant benefits over systems based around WiFi/Bluetooth or GPS technology; the latter in particular is unsuitable for indoor use due to its reliance on satellite signals.
The UWB module incorporates Qorvo ICs which reduces mounting areas by around 75% compared to chip-on-board designs. The resin-moulded surface mounted module includes a built-in Nordic Semiconductor nRF52840 SoC which affords design flexibility and reduces product development time by eliminating the need to prepare external microcontrollers for customers.
Additional features include 256kbyte RAM and 1Mbit flash memory, a three-axis sensor for motion detection, a deep sleep mode of 250nA and the ability to operate in temperatures from -40 to 85°C and at voltages from 2.5 to 3.6V.
The module is also claimed to have superior EMI performance which makes it particularly suitable for designers wanting to add enhance location and distance sensing to smartphone, IoT and smart city applications.
View PDF