Features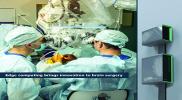 Edge Computing Leverages Modular Power in Scalable Micro Data Centres - May 2022
Edge computing is essential to realizing the full potential of artificial intelligence (AI), machine learning and internet of things (IoT). These technologies are being infused into every corner of...
More details...
Power Electronics Europe News
Record-Breaking 72 Meter Multi-Layer Flexible PCB
Trackwise Designs plc, a UK-based manufacturer of specialist products using printed circuit technology, has broken its own record for the world's longest multi-layer flexible printed circuit (FPC), delivering a 72 m FPC for in industrial application. Constructed using a polyimide base laminate with copper elements, and finished with an organo-metallic layer to protect against oxidization, the final circuit, and the exceptional circuit consistency, was made possible thanks to their patented Improved Harness technologyTM. IHT uses a proprietary, patented process to manufacture multilayer flexible printed circuits of unlimited length. While the technology has many applications, the directors expect that one of its primary uses will be to replace traditional wire harness in a variety of industries.
"We have smashed our previous 2020 record of 52 meter, which itself beat our 2019 record of 25 meter", commented Philip Johnston, CEO, Trackwise. "Many applications are emerging for very long FPCs as customers become aware of the advantages offered by the technology. As well as the industrial sector, we are also winning business in the aerospace and automotive industries where our FPCs can help to increase battery life and EV range, for example, by reducing weight. Another key market is medical where users look to replace existing microwires with a cheaper, more reliable, and flexible solutions. The versatility and cost effectiveness of the roll to roll, length-unlimited manufacturing capability means that we are delivering improved connectivity solutions for new and innovative product designs all the time, even where the client does not need a product as extreme as 72 m in length!" The customer also recognized Trackwise' ability to deliver a constant copper thickness across and along the manufactured part, thanks to a reel-to-reel copper plating line, achieving within /- 5um across and along the entire 72 m long part. This allowed for defined and tightly controlled layer to layer resistance with as thin as possible thickness for the flex in the end product. AS