Features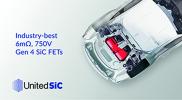 A New Approach to Circuit Breaker Design Using Silicon Carbide Switches - Nov 21
Mechanical circuit breakers can be low cost with minimal losses, but they operate slowly and wear out. Solid state versions overcome the problems and are becoming increasing viable as replacements at...
More details...
Power Electronics Europe News
Power MOSFET increases efficiency and power density
The IRFH7185TRPbF 100V FastIRFET power MOSFET delivers benchmark performance for DC/DC power supplies in telecomms, claims International Rectifier. Using the company's 100V FastIRFET process, it is claimed to offer ultra-low Rds(on) with significantly lower gate charge than alternative devices to enable high performance from light load to full load. The device structure offers a 20% improvement in avalanche current density to deliver the industry's most robust solution for DC/DC telecomms power supplies. The MOSFET works with any controller or driver to offer design flexibility and is qualified to industrial grade and moisture sensitivity level 1 (MSL1). It is small, supplied in an industry standard 5x6 PQFN package that features an environmentally friendly, lead-free and RoHS compliant bill of materials.
View PDF