Features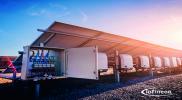 Benefits of CoolSiC MOSFETs in Bi-Directional Inverter Applications - July 2021
With the move to renewable energy, there is an increased focus not only on generation but also storage, to make the most of the intermittent supply from wind and solar. Batteries are the common...
More details...
Power Electronics Europe News
Designed for telecomms, a 100V FastIRFET power MOSFET delivers benchmark performance for DC/DC power supplies in this sector....
Medical grade AC/DC desktop power adapters from TrumPower are available in both Class I and Class II models....
Digital PoL DC/DC modules from CUI use the company's Solus Power single stage topology....
Infineon's 1350 V reverse conducting, soft switching IGBT is optimised for induction cooking applications....
Microchip announce a power-monitoring IC, the MCP39F501, which measures AC power in real-time....
STMicroelectronics expands three of its advanced high-voltage power MOSFET families with the introduction of two packages....
APEC launches cost-effective, N-channel enhancement-mode power MOSFETs offering a fast switching performance....
Several Powerex SiC Modules have now been certified RoHS (Restriction of Use of Hazardous Substances) compliant....
PCIM Europe 2014 exhibition and conference takes place from 20 - 22 May 2014 at the exhibition centre Nuremberg....
Toshiba Electronics Europe extends its family of 650V SiC Schottky barrier diodes with 6, 8 and 10A versions....