Features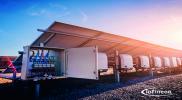 Benefits of CoolSiC MOSFETs in Bi-Directional Inverter Applications - July 2021
With the move to renewable energy, there is an increased focus not only on generation but also storage, to make the most of the intermittent supply from wind and solar. Batteries are the common...
More details...
Power Electronics Europe News
Sunpower adds two constant current LED power supplies
The PCD/PLD 40/60 40 and 60W economical, constant current LED power supplies have been introduced by the company.
The PCD versions feature AC phase-cut dimming control which can be implemented using either leading edge or trailing edge TRIAC dimmers.
All models have a 180 to 295V AC input range; each with different output current and voltage capabilities. Constant current single outputs from 350 to 2400mA are available. Efficiency rating is up to 88%, meaning that they need only free air convection cooling for -30 to 50˚C ambient temperature operation. This makes them suitable for either outdoor LED lighting or indoor decorative lighting applications.
Single-stage PFC topology allows the four products to meet the requirements of high power factor - greater than 0.9 – and EN61000-3-2 Class C (harmonic current) specifications for the lighting industry. They have Class ll no Frame Ground design and double insulation and are enclosed within UL 94V-0 rated plastic cases; these are effective in protecting users from electric shock. User safety is further guaranteed by the new models' compliance with ENEC EN61347-2-13 and EN62384 lighting certificates, while CE and IP30 ingress protection is also provided. Short-circuit and over temperature protection is built in.
View PDF