Features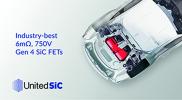 A New Approach to Circuit Breaker Design Using Silicon Carbide Switches - Nov 21
Mechanical circuit breakers can be low cost with minimal losses, but they operate slowly and wear out. Solid state versions overcome the problems and are becoming increasing viable as replacements at...
More details...
Power Electronics Europe News
Rutronik offers the AP3595 dual phase, synchronous rectified buck controller from Diodes. ...
Infineon Technologies claims it has released the smallest CoolMOS MOSFET, the ThinPAK 5x6....
Three mixed-voltage NPCs are integrated into a single flow 1 housing for 1200V solar three-phase inverter applications....
CT-Concept ships its first products with SCALE-2 gate driver chipset enabling soft shutdown in the event of a short circuit....
Advanced Power Electronics has introduced a small load switch with controlled turn-on and very low on-resistance....
Advanced photovoltaic (PV) technologies will increasingly find their way into mainstream solar manufacturing soon....
Three models have been added to LEMís HO series of PCB through-hole mounting current transducers....
Over 300 companies were asked about their preferences and opinions on PV inverters in a recent survey by IHS....
ETSI- and ITU-compliant 1.75kW modules have been added to Vicorís isolated BCM (Bus converter Module) range....
Wide bandgap (WBG) technologies will reshape part of the industry, especially SiC for high-voltage devices....