Features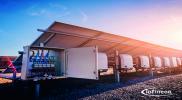 Benefits of CoolSiC MOSFETs in Bi-Directional Inverter Applications - July 2021
With the move to renewable energy, there is an increased focus not only on generation but also storage, to make the most of the intermittent supply from wind and solar. Batteries are the common...
More details...
Power Electronics Europe News
ICW announces sales agreement with ICEL
Both both companies will be able to offer each another's products in their respective home markets.
The Milan-based, film capacitor manufacturer manufactures a range of box radial polypropylene and polyester capacitors for snubber, pulse power, DC link and AC filtering applications (illustrated).
David Thomson, managing director of ICW, said: "The product lines of ICW and ICEL complement one another perfectly, allowing ICW to offer a complete film capacitor solution in the UK market.
Both companies offer customers technical and development support.
View PDF