Features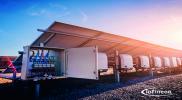 Benefits of CoolSiC MOSFETs in Bi-Directional Inverter Applications - July 2021
With the move to renewable energy, there is an increased focus not only on generation but also storage, to make the most of the intermittent supply from wind and solar. Batteries are the common...
More details...
Power Electronics Europe News
1200V field stop trench IGBTs reduces solar inverter losses and board size
The three IGBTs are also suitable for use in UPS (uninterruptible power supplies), and welders, says Fairchild Semiconductor.

They minimise conduction losses by having a VCE(SAT) of 1.8V; lower than that of the previous fast-switching NPT IGBTs, says the company. They are claimed to have one of the lowest VCE(SAT) ratings available in its category. Switching losses are low with an EOFF value of under 30µJ/A. All devices contain a co-packed diode optimised for fast switching.
According to the company, the IGBT allows designers to operate devices at higher switching frequencies than competitive solutions, helping to reduce the size and cost of the capacitors and inductive components in the circuit. This results in system designs with higher power density, smaller size and lower bill of material costs.
It is tested for clamped inductive switching at current levels of four times the rated current to guarantee a larger safe operating area. It is available in the TO247 package with 20mm lead-length and offer a 15 (FGH15T120SMD), 25 (FGH25T120SMD), and 40A (FGH40T120SMD) current rating.
View PDF